For faster service:
Press button below to see current available appointments and then be able to receive intake forms, if you choose from Simple Practice, we are accepting new clients:
---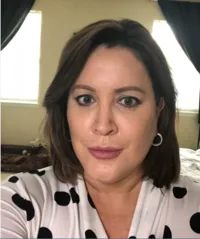 Jacqueline Heiny, MS, LMHC
Contact Info:
407 635-1979- office
(Crisis counselor and stabilization)
[email protected] ( for any additional questions)
Rates & Insurance:
Accepting self pay clients only $150.
Other clinicians accepting insurances.
Availability:
Hours 4-9pm
Specialization:
Couples and Individuals for Marriage Counseling and Personal Growth
I'm Trained Level 1 and 2 from Gottman's Couple Institute.
Gottman Institute has studied couples for 43 years with 3000 couples.
(All couples and Individuals are welcomed)
---
Hi,
I'm Jacqueline Heiny originally from NYC with a Catholic background, I enjoy helping couples and families communicate better and healthier in a shorter amount of time. My goal is to reduce stressors at home from work or motherhood specially in these very stressful times where lots of people are working from home and new moms and dads are not getting a break. Stress then affects the marriage.
I will help you both communicate better so everything doesn't seem as a stressor. You can start as an individual as well. I will help you communicate without defensiveness or criticism which often leads to stonewalling and someone walking away which will make you angrier, not getting heard.
Tools will be given to practice in between sessions to improve respect, feeling heard and help you bond again with different activities.
We can work on infidelity issues and trauma which helps you heal current issues from them. I help both partners get your needs met by communicating feelings and needs while reducing criticism and stonewalling. Let's work on connecting again.
Lets enforce what you both do well and lets start noticing it again.
Sometimes people have long term mental health issues that run in the family with my 15 years as a therapist and working in different settings, I can help advocate for you if you choose, when your not on the right meds.
My style is direct and down to earth but compassionate towards solutions. I consider myself easy to get along with everyone and have a good sense of humor.
I've been married for 16 years and in a healthy and peaceful relationship that I want to help others achieve as well.
I provide text support for urgent matters once you become a client.
---
If sessions can become argumentative please schedule individual session first. I want everyone to stay safe and be heard I can see both together and/or separate.
(We provide love, respect and acceptance of anyone's race, religion, preferences or differences.)
Alexithymia
(Not able to express or understand emotional needs. 10% of men and 8% of women have this and EMDR therapy is very effective in increasing the ability to feel and express emotions. (some will be in denial that's ok)
Increase healthy communication and boundaries
Heal from infidelity issues
Revitalizing the relationship (Bringing back romance)
Reduce co-parenting/ blended family issues to being on the same page
Individual Counseling
Reduce depression/ hopelessness and negative statements (Encouraging self growth)
Reduce Anxiety and stress with EMDR.
Heal from past trauma affecting you now. (for ex. abusive or neglectful childhood)
Adolescents ( 13 and older) and Individual Therapy who are wanting to talk about how they are feeling. ( For the family and teen to feel heard together or separate)
EMDR for trauma processing , PTSD, childhood issues leading to current issues.
TRAUMA:
I practice CBT and EMDR:
EMDR Therapy is not covered under insurance but very effective to lower your stress even with one session. We work on traumatic memories that may still be in your subconscious. We process through it to a better place.
People have said to me they have come in with anxiety on a suds scale ( trauma scale) of 0-10 as a 10 but after only one session their stress and anxiety is down to a 1 or 2 after one session and have mentioned feeling like they are floating as they feel so relaxed.
I have seen a lot of success in infidelity when a partner cannot let go of an image, reducing the anxiety from an accident or years of living "stressed out." I find EMDR very helpful for processing and healing from childhood abuse and neglect.
Please indicate when booking an appointment if your wanting an EMDR session which is not covered with insurances.
EMDR Therapy is very powerful for all aspects in life to reduce depression, anxiety and anger see results after one session with Jacqueline Heiny, MS, LMHC
---
Admin hours:
10am-5pm
Lunch break 12-1pm
407 635-1979 ( To request or change an appointment)
You can email with questions 24/7 at [email protected]
FEES
CASH OR CREDIT CARD accepted for
1 ) $150 for 50 min.
Late cancellations are $50 ( less then 24 hours) or full fee for no shows.
Our group practice specializes and enjoy working with Couples and Marriage, Trauma leading to depression and anxiety, teens and self growth.
Appointments can run a little longer in emergency sessions. We offer both in person and Telehealth appointments. We cannot see you without paperwork filled out online prior and when appt. is made.
Please confirm in text reminders 24 hours prior or reschedule there as well.
---
History:
I'm a mental health therapist and owner of Lake Mary Counseling Group practice been a counselor for 17 years specializing in couples, marriage and family therapy, Individual and teens and maintain a private practice in Lake Mary area. I enjoy helping people and making a difference to anyone I can.
I have been happily married for 17 years to a wonderful man from Wassau, WI our compromising, respect and humor always keep us in a good place and together we have 3 grown children. Now parents to 3 fur babies. We love psychological thrillers and action movies and in our spare time go boating and jet skiing. Vacations are in Chapel Hill, NC where I have a LMHCA.
I'm originally from New York City where I grew up Catholic. My dad was from Puerto Rico and mom from Costa Rica. Originally I studied law and real estate but found my passion helping others in crisis.
I graduated from Stetson University in Deland with a masters in Mental Health Counseling. I love what I do specially making a difference in a short amount of time and actually seeing emotional pain reduced.
Worked many years providing family and marriage counseling effectively with positive results, along with crisis counseling for both teens and adults. I feel I treat others as I want to be treated with respect and consideration. I'm very patient to hear you and help you get the bottom of negative patterns or the origins from past trauma, my style is gently direct as I'm solution focused. I analyze what I'm hearing and what's not said. As a Cognitive Behavioral Therapist I will give you home assignments to practice what we discussed where consistent new habits lead to changes.
---
Lake Mary Counseling LLC
Looking for help is hard specially if you don't know what to expect. Counseling is where you get heard and solutions are found. Our goal is to help you, listen to you, no judgments and get you to a peaceful better place.
We will help you communicate how your feeling and what your needing in a way that gets heard. We want the opportunity to save your marriage and repair the relationship with tools and home assignments or as an individual reduce anxiety and depression in your life.
Sometimes communication has just stopped being respectful you feel ignored again or you are being taken for granted, all you do for the family and being dismissed so at this point what you want has become a need. If your partner is walking away, that can create resentment and that turns to anger. We feel many relationships can be saved if both in the relationship stop to listen to what is your partner really is needing and what are they are feeling, what's behind the angry words.Lets work for a solution.
We here to reduce daily patterns of arguing by practicing active listening and reduce defensive statements while increasing positive statements, validating your partner's feelings which may include healing from infidelity and move past the pain.
Are you having trouble moving on and forgiving? Counseling makes a big difference to be able to move past issues and heal the wound. Some people are coming because now they are separated, never felt heard or were taken for granted but the other partner or parents now see their ways and want to salvage the relationship and relationships can be saved when both are willing to come in or eventually together. People can change!
If its pre-marital let's discuss your different views and common goals and dreams and how it can not become a problem in the future.
Let's discuss communicating better and reduce insecurities from past issues.
Counseling improves your relationship in many ways not just for people thinking of separating.
---
Goals:
We will work on compliments, romantic dates and communicating needs where one listens and the other shares their feelings and frustrations to break the pattern of defensiveness. People have a need to feel heard and valued so respectful communication and timing is crucial.
If there is a history of abuse, not feeling heard and if it can get volatile please do an individual session first.
We practice active listening skills and use positive statements to refocus the conversation to a better and calmer place. I can see the positive things in you and your relationship that you might not be able to see any more.
Patterns that need to be broken maybe from childhood needs or past unresolved trauma. Items we can address in further treatment. Most symptoms and negative behaviors can have a trauma origin.
You can come privately at first to share personal frustrations and how we are going to tackle it together in couples counseling . We are passionate and patient and have a good sense of humor so needed at times. We here to help you our main goal.
Call us today so we can start healing now.
(Check spam folder if email not received and let us know within 24 hours of making an appt if paperwork not received.)
If you're sick please stay home and stay safe, counseling can wait but we also offer Telehealth counseling (online if needed).
Modalities:
Cognitive Behavioral Therapy
Solution Focus Therapy
Person Centered Therapy
EMDR Therapy (for trauma, anxiety, high stress, depression and PTSD)
Certified as a Clinical Trauma Professional (CCTP)
Member of Mental Health Counselors of Central Florida and Florida Mental Health Counselors
Please see all the therapists in our group practice to see who's a good fit for you. We look forward to working with you today and reduce current stressors.
We specialize in:
Couples, Relationship Issues, Communication and Infidelity Issues
Past Childhood Trauma, racing thoughts and anxiety
Depression, lack of energy and motivation and Grief
Goals, self esteem
Substance Abuse
Undiagnosed Bipolar 1 and 2 .
When needed referrals to a psychiatrist for ADHD, Bipolar, Severe anxiety with panic attacks and Severe Depression with SI and HI is available.
(Getting the proper diagnosis is crucial in improving symptoms like Bipolar can take up to 11 years to be correctly diagnosed there's mania or anger and depression. Some people have both ADHD and Bipolar, if ADHD is treated before the mood is stabilized it can lead to mania which can cause impulsivity and problems sleeping. Both can run in the families. )
Appointments at 407 635-1979 Monday - Friday in person or by Telehealth.